When:
June 26, 2023 @ 12:00 pm – 1:00 pm
2023-06-26T12:00:00-04:00
2023-06-26T13:00:00-04:00
Where:
Online continuing education workshop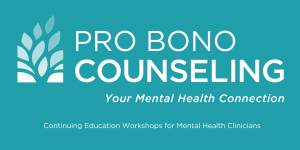 Pro Bono Counseling
2023 Professional Continuing Education Online Webinar
Diversity in Veteran Identity
Monday, June 26, 2023, from 12:00 PM – 1:00 PM
Online Workshop – One (1) CE Credit
Fee: $19/person
FREE for Active PBC Volunteer Clinicians
Featured Presenter: Alicia Lucksted, PhD
Session Description: This workshop will present the clinical relevance of viewing "Veteran" as a social identity for those who have served in the military, and the usefulness of looking at it through both classic (three-factor) identity theory and more recent multi-dimensional identity conceptualizations. The presenter will offer Veterans' own examples of important facets of "Veteran identity" (how Veterans think of themselves as Veterans) beyond common societal images, how Veteran identity may vary based on personal factors such as gender and subjective military experience. The workshop will include a discussion of practical implications such as how mismatches between therapeutic messages and identity can lead to unwelcome effects, and how being aware of Veteran identity diversity may help therapists suggest more fitting resources.
Learning Objectives:
At the end of this presentation, the participant will be able to:
Explain what is meant by describing a social identity (such as "Veteran") as multi-dimensional rather than unidimensional.
Describe three factors that can contribute to diversity within Veteran identity.
Identify three ways awareness of Veteran identity can enhance a therapeutic relationship and process.
Presenter Bio: Alicia Lucksted, PhD
Alicia Lucksted is a clinical-community research psychologist at the Veterans Administration VISN-5 MIRECC (Mental Illness Research, Education, and Clinical Center) which focuses on the recovery-paradigm of services and treatments for serious mental illnesses. She has long-time experience in creating and testing psychosocial mental health interventions, qualitative and mixed methods research, service-users experiences of therapeutic services, and stigma as an impediment to mental health recovery, among other areas.
Workshop registrants will receive a code prior to the webinar to log on to Zoom and participate in the online session.
IMPORTANT: Attendance will be monitored. Participants must be logged on to the meeting by the workshop start time and participate in the entire event in order to earn CE credit.
Pro Bono Counseling is approved by the American Psychological Association to sponsor continuing education for psychologists. Pro Bono Counseling maintains responsibility for this program and its content. The Maryland Boards of Social Work Examiners and Professional Counselors and Therapists certify that this program meets the criteria for one (1) credit hour of continuing education for social workers (Category 1), professional counselors, and therapists (Category A – pending) licensed in Maryland.
CE credit is granted to participants with documented attendance at individual workshops. Attendance is monitored. Credit will not be granted to registrants who log on late or depart early from a session. It is the responsibility of registrants to comply with these requirements.
By registering for this event, all participants agree to abide by the following code of conduct:
Workshop Code of Conduct
Pro Bono Counseling (PBC) is dedicated to providing a positive continuing education experience for everyone of all backgrounds and identities. We do not tolerate disrespectful behavior or harassment of workshop participants, facilitators, or PBC staff in any form. We do not tolerate discrimination or harassment on the basis of characteristics that include but are not limited to: gender, gender identity and expression, age, sexual orientation, disability, physical appearance, body size, citizenship, veteran status, pregnancy status, race, ethnicity, or religion. Anyone asked to stop unacceptable behavior is expected to comply immediately. If a participant engages in unacceptable behavior, PBC may take any action it deems appropriate, including warning or expelling the offender from the event with no refund.
Workshop Views Disclaimer
The views expressed by the workshop presenter(s) and participants are their own opinions and do not represent Pro Bono Counseling, and do not imply an endorsement of them or the organizations they represent.