When:
June 12, 2023 @ 2:00 pm – 3:30 pm
2023-06-12T14:00:00-04:00
2023-06-12T15:30:00-04:00
Where:
Online continuing education workshop

Pro Bono Counseling
2023 Professional Continuing Education Online Webinar
Challenging Behavior in Young People: A Neurodiversity Affirming Approach
Monday, June 12, 2023, from 2:00 PM – 3:30 PM
Online Workshop – 1.5 CE Credits
Fee: $25/person
FREE for Active PBC Volunteer Clinicians
Featured Presenter: Courtney Hart, LCSW-C
Session Description: Participants will explore neurodiversity-affirming strategies to use to understand child behavior and respond to it in collaborative and effective ways. Participants will be introduced to concepts that step away from behaviorism-based approaches and towards approaches in neuroscience and connection.
Learning Objectives:
At the end of this presentation, the participant will be able to:
Define neurodiversity and the social model of disability.
Analyze current approaches to responding to young people's behavior through the lens of current brain science research.
Identify neurodiversity-affirming approaches that can be used in response to challenging behavior.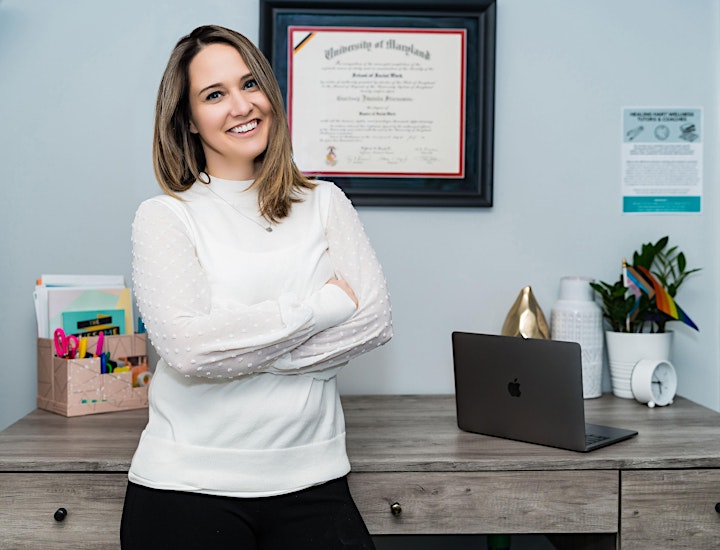 Presenter Bio: Courtney Hart, LCSW-C
Courtney Hart, LCSW-C, RYT 500, RCYT, is a Licensed Clinical Social Worker and Board Approved Supervisor who founded Healing Hart Wellness, a pediatric mental health and wellness practice in 2018. A curious and analytical person by nature, in her first few positions, which included a non-public school, pediatric inpatient programs, and residential treatment, Courtney found herself questioning the standard approaches. It didn't seem like anything she was "supposed" to do was working to regulate or de-escalate her clients. Courtney set out on a path to figure out how to intervene in a values-aligned way, determined to approach clients with the goal to understand and support them as individuals rather than modifying behavior. Through research, training, and learning from those with lived experience, Courtney began to carve out her niche, supporting ADHDers and Autistic young people and their families along with providing neurodiversity-affirming OCD treatment. She utilizes child-centered play, animal-assisted interventions, acceptance and commitment therapy, a neurodiversity-affirming approach to exposure and response prevention, inference-based CBT, and Autistic-centered therapy in sessions. In addition to supporting her phenomenal team of mental health and wellness providers at Healing Hart Wellness, Courtney also runs, Therefore I Learn, which provides children's yoga teacher training, training in mindfulness for young people, and more. When Courtney isn't working, you can find her starting random projects at home, playing fetch with her dogs, scouring the internet to research topics of interest, reading, playing video games, or listening to music.
Workshop registrants will receive a code prior to the webinar to log on to Zoom and participate in the online session.
IMPORTANT: Attendance will be monitored. Participants must be logged on to the meeting by the workshop start time and participate in the entire event in order to earn CE credit.
Pro Bono Counseling is approved by the American Psychological Association to sponsor continuing education for psychologists. Pro Bono Counseling maintains responsibility for this program and its content. The Maryland Boards of Social Work Examiners and Professional Counselors and Therapists certify that this program meets the criteria for 1.5 credit hours of continuing education for social workers (Category 1), professional counselors, and therapists (Category A) licensed in Maryland.
CE credit is granted to participants with documented attendance at individual workshops. Attendance is monitored. Credit will not be granted to registrants who log on late or depart early from a session. It is the responsibility of registrants to comply with these requirements.
By registering for this event, all participants agree to abide by the following code of conduct:
Workshop Code of Conduct
Pro Bono Counseling (PBC) is dedicated to providing a positive continuing education experience for everyone of all backgrounds and identities. We do not tolerate disrespectful behavior or harassment of workshop participants, facilitators, or PBC staff in any form. We do not tolerate discrimination or harassment on the basis of characteristics that include but are not limited to: gender, gender identity and expression, age, sexual orientation, disability, physical appearance, body size, citizenship, veteran status, pregnancy status, race, ethnicity, or religion. Anyone asked to stop unacceptable behavior is expected to comply immediately. If a participant engages in unacceptable behavior, PBC may take any action it deems appropriate, including warning or expelling the offender from the event with no refund.
Workshop Views Disclaimer
The views expressed by the workshop presenter(s) and participants are their own opinions and do not represent Pro Bono Counseling, and do not imply an endorsement of them or the organizations they represent.