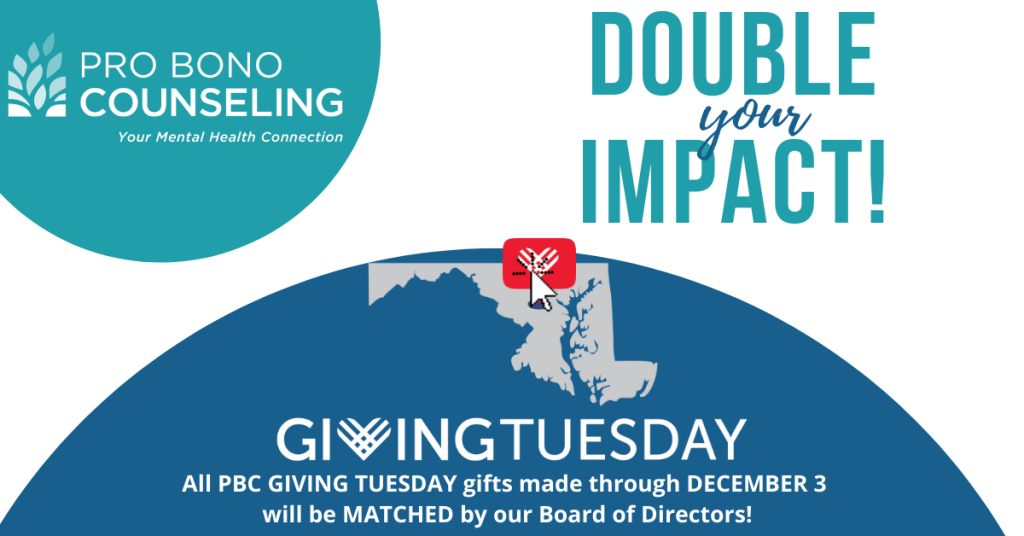 On GIVING TUESDAY, YOU can DOUBLE your IMPACT!
All GIVING TUESDAY gifts will be MATCHED!*
Your gift of $25 will become $50, or $50 will become $100!
Your generous gift to Pro Bono Counseling will help provide quality mental health care for all those in need throughout Maryland.
Right now, the need for mental health counseling in Maryland is urgently increasing. This year alone there has been a 46% increase in the number of Marylanders PBC has matched with volunteer therapists over last year. To sustain this significant increase, we need your help.
Pro Bono Counseling relies on your generous contributions to allow us to continue our services to Marylanders in need.  – Please make a gift today of any size.
*All donations received during the week of GIVING TUESDAY will be matched by the PBC Board of Directors, up to $20,000.
ABOUT GIVING TUESDAY
GIVING TUESDAY is a global day of giving that harnesses the collective power of individuals, communities and organizations to encourage philanthropy as well as to celebrate generosity worldwide.
All funds raised will support Pro Bono Counseling's mission to ensure that Marylanders with limited resources requesting mental health care are provided access to volunteer licensed mental health professionals and other necessary supportive services.
ABOUT YOUR GIFT'S IMPACT
When you support Pro Bono Counseling, you are helping individuals, couples, and families of all ages living in Maryland are able to access mental health care. Here is what a few Marylanders recently told us about their experience with PBC:
"Pro Bono Counseling has been a lifeline for me. Your organization is super important — knowing you can help me when I have no job or income, I feel like there's actually a way out of this bubble. I am so grateful for your service."
"I am so grateful for you going out of your way to look into a specialist for me. I didn't think this would even be possible pro bono, especially with this kind of follow up. I can't tell you what it means to me. I'm so grateful this service exists."
"I am so glad I called this line for help. You acknowledged me culturally . . . You saw me and allowed me to be whole. It meant something; it did something. Thank you."