When:
November 4, 2022 @ 9:00 am – 12:00 pm
2022-11-04T09:00:00-04:00
2022-11-04T12:00:00-04:00
Where:
Online continuing education workshop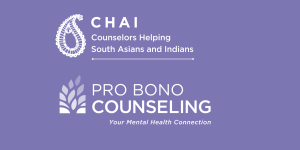 Pro Bono Counseling
2022 Professional Continuing Education Online Webinar
Never Have I Ever…Understood Desi Parenting – Until I Attended This Workshop
Friday, November 4, 2022, from 9:00 AM- 12:00 PM
Online Workshop – Three (3) CE Credits
Fee: $49/person
FREE for Active PBC Volunteer Clinicians
Featured Presenters: Razia F. Kosi, EdD, LCSW-C; and Neha Navsaria, PhD
Session Description: The number of South Asian American families is growing in the U.S with currently more than 5.5 million people of this background. This is a diverse group with differences in immigration and generational experiences across the diaspora. The core focus of this workshop will be strengthening the effective strategies that build cultural ties and resilience within South Asian Americans.
Learning Objectives:
At the end of this presentation, the participant will be able to:
Gain an understanding of the dynamics within South Asian American parenting;
Discuss an overview of commonalities among South Asian American parents ;
Gain awareness of effective practices for South Asian American parents;
Explore a clinical case study to examine a South Asian American therapist's assumptions, approaches in therapy, and responses from the South Asian American family.
Presenter Bio: Razia F. Kosi, EdD, LCSW-C
Dr. Razia F. Kosi is the Coordinator of Culturally Responsive Practices and Anti-Racism Development, in a highly diverse Maryland public school system where she leads DEI initiatives. Dr. Kosi is also a mental health professional working to end stigma surrounding mental health in the South Asian (SA) community and was the founder of Counselors Helping (South) Asians, Inc.(CHAI). Additionally, Dr. Kosi is an adjunct professor in the doctoral program at the School of Education at the Johns Hopkins University. Advocating for both mental health and education, she has served on executive boards for both national and local organizations serving the SA and AAPI communities, including DoSAA and AAPA. She also co-founded the Asian American Educators of Howard County, currently serving on the executive board. Dr. Kosi sees clients in a small private practice primarily serving SA, and Muslim clients from varying racial and ethnic backgrounds.
Presenter Bio: Neha Navsaria, PhD
Dr. Navsaria is an Associate Professor of Psychiatry at the Washington University School of Medicine in St. Louis. As a clinical psychologist, she has interests in parenting, parent-child relationships, and early social and emotional development. She has expertise in ethnic minority and immigrant mental health and ethnic and racial socialization in families. She has been an advocate for mental health and wellness in Asian-American communities as an active member of the Asian American Psychological Association (AAPA) elected as chair for the AAPA Division on South Asian Americans.  Building upon her interests in parenting and Asian American psychology she was the co-recipient of the 2011 AAPA/American Psychological Foundation Okura Grant to fund a national parenting initiative culminating in the creation of a resource book for South Asian parents of which she is co-editor. She believes that parents are the greatest social and emotional architects of childhood and enjoys helping parents navigate this role with their children.
Workshop registrants will receive a code prior to the webinar to log on to Zoom and participate in the online session.
IMPORTANT: Attendance will be monitored. Participants must be logged on to the meeting by the workshop start time and participate in the entire event in order to earn CE credit.
Pro Bono Counseling is approved by the American Psychological Association to sponsor continuing education for psychologists. Pro Bono Counseling maintains responsibility for this program and its content. The Maryland Boards of Social Work Examiners and Professional Counselors and Therapists certify that this program meets the criteria for three (3) credit hours of continuing education for social workers (Category 1), professional counselors, and therapists (Category A – pending) licensed in Maryland.
CE credit is granted to participants with documented attendance at individual workshops. Attendance is monitored. Credit will not be granted to registrants who log on late or depart early from a session. It is the responsibility of registrants to comply with these requirements.
By registering for this event, all participants agree to abide by the following code of conduct:
Workshop Code of Conduct
Pro Bono Counseling (PBC) is dedicated to providing a positive continuing education experience for everyone of all backgrounds and identities. We do not tolerate disrespectful behavior or harassment of workshop participants, facilitators, or PBC staff in any form. We do not tolerate discrimination or harassment on the basis of characteristics that include but are not limited to: gender, gender identity and expression, age, sexual orientation, disability, physical appearance, body size, citizenship, veteran status, pregnancy status, race, ethnicity, or religion. Anyone asked to stop unacceptable behavior is expected to comply immediately. If a participant engages in unacceptable behavior, PBC may take any action it deems appropriate, including warning or expelling the offender from the event with no refund.