When:
September 8, 2021 @ 3:30 pm – 5:00 pm
2021-09-08T15:30:00-04:00
2021-09-08T17:00:00-04:00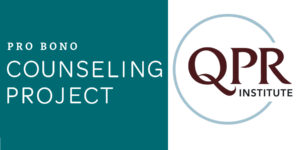 In observance of National Suicide Prevention and Awareness Month, Pro Bono Counseling is offering a free online suicide prevention training.
Facilitator: Amy Greensfelder, LMSW, certified QPR suicide prevention instructor
Question. Persuade. Refer. Three steps anyone can learn to help prevent suicide.
The QPR method is a brief intervention that can be taught to anyone who has contact with people at risk for suicide. Trainees are taught how to identify the warning signs and risk factors for suicide and suicidal ideation, and are then trained on how to sensitively ask if the person they are concerned about is contemplating suicide, and are taught how to connect the person to appropriate resources.
KEY COMPONENTS TO BE COVERED IN THIS TRAINING:
• How to Question, Persuade and Refer someone who may be suicidal
• How to get help for yourself or learn more about preventing suicide
• The common causes of suicidal behavior
• The warning signs of suicide
• How to get help for someone in crisis