When:
April 12, 2023 @ 9:00 am – 12:15 pm
2023-04-12T09:00:00-04:00
2023-04-12T12:15:00-04:00
Where:
Online continuing education workshop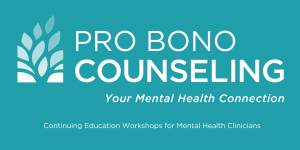 2023 Professional Continuing Education Online Webinar
Pursuing Congruence: Supporting Clients Through Gender Exploration
Wednesday, April 12, 2023, from 9:00 AM – 12:15 PM
Online Workshop – 3 CE Credits
Fee: $39/person
FREE for Active PBC Volunteer Clinicians
Featured Presenters: Jessica R. Rothstein, PsyD, and Ray Moneypenny, LCSW-C
Session Description: This course is designed for therapists and mental health professionals who want to build competency in working with gender diverse and transgender clients. This workshop will guide clinicians through different aspects of transition and language around gender identity, as well as helping them build awareness of cisgender privilege.
Learning Objectives:
At the end of this presentation, the participant will be able to:
Describe the difference between gender dysphoria and gender euphoria

Identify different pathways to pursue gender congruence (social, legal, medical) and their potential impact on the client

Explore clinician's identity and how it might impact the therapy process

Discuss the role of the therapist in supporting patient autonomy as they pursue congruence
Presenter Bio: Jessica Rothstein, PsyD
Jessica R. Rothstein, Psy.D. (she/her) is the owner of Collaborative Pathways Counseling and Consulting, LLC. As a white, Cisgender female, she is dedicated to operating from a culturally humble perspective. She is well known for her work with transgender individuals, and their family members, and regularly conducts Gender Affirming Surgery assessments. She treats individuals ages 14-65 years old and provides couples and family therapy. From a clinical standpoint, she aims to provide patients an environment where they are seen as a whole, and can learn to identify their strengths, along with the aspects of self they seek to change.
Dr. Rothstein is a graduate of Loyola University in Maryland, earning her master's degree in 2006 and her Doctorate in 2009. She has advanced training in clinical supervision. Along with LGBTQ affirming care, she is passionate about ethics, self-care, and insurance-based practice. She is frequently asked to offer consultation and training on these topics.
Presenter Bio: Ray Moneypenny, LCSW-C
Ray Stirba Moneypenny, LCSW-C (they/them) is a Queer- and trans-identified clinician with a passion for providing affirming care to LGBTQ+ adolescents and adults navigating gender transition or coming to terms with their sexuality. Ray has years of experience in many modalities of trauma-informed care and strives to integrate experiences in the queer community with the latest research and development of clinical work and process. Ray is a full-time therapist at Collaborative Pathways Counseling and Consulting, LLC and also serves as a consultant helping to educate other mental health and allied professionals.
Ray's clinical background is primarily in working with survivors of trauma, individuals managing diagnoses of anxiety and depression, LGBTQI+ adults, teens, and their families, and individuals and couples navigating alternative lifestyles such as BDSM and non-monogamy. Ray has a variety of experiences as an educator, including as a secondary mathematics teacher, training other clinicians in trauma-informed and LGBTQ-affirming care, and providing sex-positive psychoeducation to adults.
Workshop registrants will receive a code prior to the webinar to log on to Zoom and participate in the online session.
IMPORTANT: Attendance will be monitored. Participants must be logged on to the meeting by the workshop start time and participate in the entire event in order to earn CE credit.
Pro Bono Counseling is approved by the American Psychological Association to sponsor continuing education for psychologists. Pro Bono Counseling maintains responsibility for this program and its content. The Maryland Boards of Social Work Examiners and Professional Counselors and Therapists certify that this program meets the criteria for three (3) credit hours of continuing education for social workers (Category 1), professional counselors, and therapists (Category A – pending) licensed in Maryland.
CE credit is granted to participants with documented attendance at individual workshops. Attendance is monitored. Credit will not be granted to registrants who log on late or depart early from a session. It is the responsibility of registrants to comply with these requirements.
By registering for this event, all participants agree to abide by the following code of conduct:
Workshop Code of Conduct
Pro Bono Counseling (PBC) is dedicated to providing a positive continuing education experience for everyone of all backgrounds and identities. We do not tolerate disrespectful behavior or harassment of workshop participants, facilitators, or PBC staff in any form. We do not tolerate discrimination or harassment on the basis of characteristics that include but are not limited to: gender, gender identity and expression, age, sexual orientation, disability, physical appearance, body size, citizenship, veteran status, pregnancy status, race, ethnicity, or religion. Anyone asked to stop unacceptable behavior is expected to comply immediately. If a participant engages in unacceptable behavior, PBC may take any action it deems appropriate, including warning or expelling the offender from the event with no refund.
Workshop Views Disclaimer
The views expressed by the workshop presenter(s) and participants are their own opinions and do not represent Pro Bono Counseling, and do not imply an endorsement of them or the organizations they represent.