When:
March 6, 2024 @ 12:00 pm – 1:00 pm
2024-03-06T12:00:00-05:00
2024-03-06T13:00:00-05:00
Where:
Interactive online event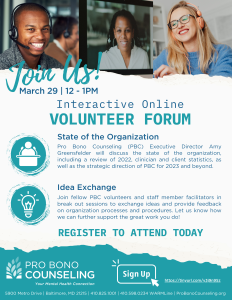 Pro Bono Counseling
Interactive Online VOLUNTEER FORUM
Wednesday, March 6
12:00 PM – 1:00 PM
FREE
State of the Organization – Pro Bono Counseling Executive Director Amy Greensfelder will discuss the state of the organization, including a review of 2022, clinician and client statistics, the impact volunteers have made on the state of Maryland, as well as the strategic direction of PBC for 2023 and beyond.
Idea Exchange – Join fellow PBC volunteers and staff member facilitators in break out sessions to exchange ideas and provide feedback on organization processes and procedures. Let us know how we can further support the great work you do!
By registering for this event, all participants agree to abide by the following code of conduct:
Workshop Code of Conduct
Pro Bono Counseling (PBC) is dedicated to providing a positive continuing education experience for everyone of all backgrounds and identities. We do not tolerate disrespectful behavior or harassment of workshop participants, facilitators, or PBC staff in any form. We do not tolerate discrimination or harassment on the basis of characteristics that include but are not limited to: gender, gender identity and expression, age, sexual orientation, disability, physical appearance, body size, citizenship, veteran status, pregnancy status, race, ethnicity, or religion. Anyone asked to stop unacceptable behavior is expected to comply immediately. If a participant engages in unacceptable behavior, PBC may take any action it deems appropriate, including warning or expelling the offender from the event with no refund.